The Natural Human Being and the Staged Manor House
Self-image Reflected in the Ambience and Décor of Danish Manorial Homes, 1770-1850
On 1 February 2013, Signe Boeskov, MA (Ethnology), PhD (History) embarked on the research project, 'The Natural Human Being and the Staged Manor House' at the Danish Research Centre for Manorial Studies. The project was funded by the Ministry of Culture Denmark.
The project investigated the interiors and the life of stately homes in Danish manor houses at a time when the aristocratic, hierarchical tradition was being challenged by new ideals of naturalness, simplicity and sensibility. The period featured a variety of estate owners and noble families who initially found very different ways of negotiating this area of tension.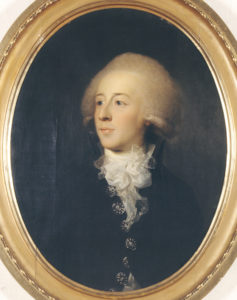 The basis of the project involved the forms of expression of a selection of estate-owning families. This included material consumption,for example, in terms of interior design and the milieus depicted in portraits. It also involved autobiographical and other accounts of their lives in the likes of letters and diaries, which made it possible to reconstruct the interior design of the manor houses and the residents' understanding of, and behaviour in their homes.
This examination shed light on cultural distinctions, thereby helping to convey a specific picture of the families and their lives. Ultimately this picture aimed to help characterise each family: in terms of their social standing, as a family and as individuals. The project also looked at the extent to which, in the individual houses (maybe even in the individuals themselves), one can talk about coexisting/opposing movements between different ideals and perhaps between ideals and practice.
Signe Boeskov recounted the story of Gammel Estrup's 'wild count', Jørgen Scheel as a representative of the aristocratic culture of his time in Jyllands-Posten Aarhus in December 2014. See the article here. Her writings include her PhD thesis, 'The gentry. Distinctions and staging in Danish manor house milieus, 1850-1920.', Aarhus University, 2010 ( published in Danish in 2017) and the article, 'Nørre Vosborg! Decorations for parties, your living rooms – your halls' in Signe Steen Boeskov, Dorte Kook Lyngholm and Mikael Frausing (ed.): As Befits a Nobleman. Celebratory piece for Carsten Porskrog Rasmussen on the occasion of his 50-year birthday. (Det pryder vel en Ædelmand) The Danish Centre for Manor House Research, 2010.