Experiencing the Country House
Commercial Heritage Management at Danish Counry Houses
In autumn 2008 Mikael Frausing assumed a position at the Danish Centre for Manor House Research as a PhD Student. His project, 'Experiencing the Country House – Commercial Heritage Management at Danish Country Houses' dealt with Danish, privately-owned manor houses as commercial operators in the experience economy.
The project looked at weddings, companies, team building and holidays, tackling tourism and tourists, cultural heritage, history and tradition and, here and there, the actual financial integrity and survival of manor houses.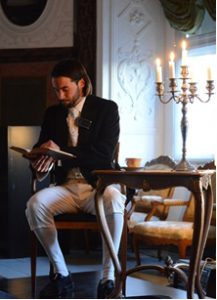 The project belonged to the Heritage Management research tradition, which deals with the preservation of cultural heritage and its use for contemporary purposes. Though relatively unexplored as a research discipline, tourism is a social structure that is profoundly meaningful for both tourists and their hosts. Tourists are involved in the negotiation of cultural values and important questions about collective and personal identity. The tourism activities of manor houses also bring up important questions about the use of history and the modern application of cultural heritage. The project looked at tourists in the area between the cutthroat competition of the commercial, experience economy market and the cultural values of the manor houses, which play a special role in terms of regional and national identity.
The project was structured as a number of case studies of Danish manor houses with visionary plans for the expansion of tourism. The project was application-orientated and contributed to an assessment of the evolution of manor houses in the direction of a better business foundation.
Mikael Frausing holds an MA in History from Aarhus University including supplementary courses in Tourism at Aalborg University. He has practical experience of tourism from a position at Hobro Tourist Office and journalistic assignments in the tourism sector.
On 17 February 2012 Mikael Frausing was awarded a PhD on the basis of his thesis.
For more information about Mikael Frausing's project, see: New Experiences and New Stories (link in Danish)