The Manor Houses' Operational and Farm Buildings
Future-development-oriented Refurbishments and Extensions versus Architectural Heritage Values
On 1 November 2006, in association with the Aarhus School of Architecture, the Danish Research Centre for Manorial Studies appointed Sonja Marie Overgaard as a PhD Student.
Sonja Marie Overgaard's project set out to examine whether it is possible to establish guidelines for how futu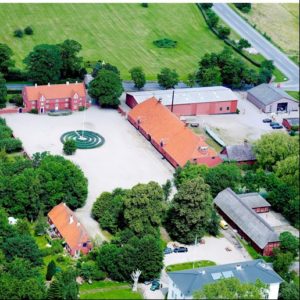 re-development-oriented refurbishments of manor houses' operational and farm buildings can, to the greatest extent possible, take into account the architectural cultural values of the buildings.
In recent years the dynamic evolution of farming has led to product specialisation and brand new modes of operation. This evolution frequently places special demands on the layout and design of operational and farm buildings, thereby posing a potential threat to architectural cultural heritage.
On the basis of empirical and theoretical analyses of how to secure the values of cultural heritage in interaction with sustainable refurbishments and contemporary architectural creativity, Sonja Marie Overgaard set out to illustrate the acceptable dividing line between transformation and preservation, when it comes to architectural cultural heritage, new functions and architectural changes and additions.
Sonja Marie Overgaard defended her PhD thesis on 14 June 2013 at the Aarhus School of Architecture. Read more (link in Danish).